This post contains affiliate links. If you click on any of these links to make a purchase, I may earn a small commission at no extra cost to you.
We arrived in the afternoon in Kuala Lumpur after taking a relaxing train ride from Butterworth to Kuala Lumpur Railway Station.
We were quite tired, but looking forward to what Kuala Lumpur offers.
Excitedly we made our way from the Kuala Lumpur Railway Station to the Royale Bintang Hotelwhich we had booked for the few days in Kuala Lumpur. I was proudly telling hubby that I had got us a nice hotel at a great price through booking.com. The reviews had been excellent, and I was looking forward to staying there! Hmmm, famous last words.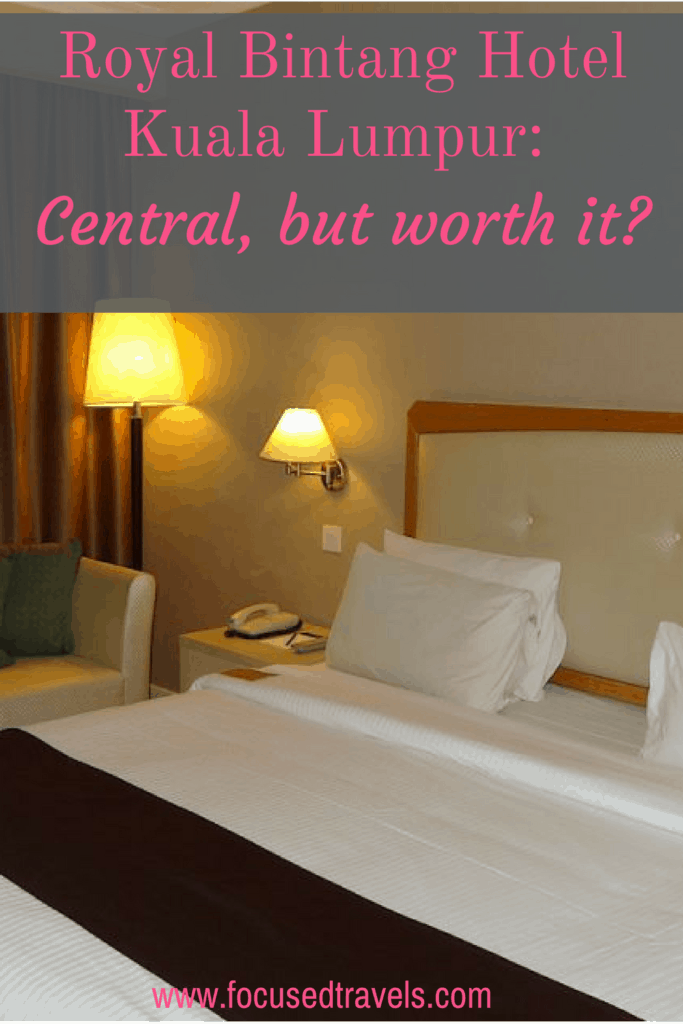 Checking-in at the Royal Bintang Hotel
The reception and foyer areas looked very festive with their Christmas decorations! The hotel was busy when we entered, and check-in took a while.
Our first room at the Royal Bintang Hotel
The room we entered had a lovely view of Kuala Lumpur Tower and the Petronas Towers.
Our happiness didn't last long. We discovered the previous guest's underwear on the floor next to the sofa. Hmmm, this was not a good sign – we were wondering if they had cleaned the room before being given to us.
We freshened up a bit as we had tickets to go to the Petronas Towers a little later. Upon entering the bathroom, we discovered there were no towels. We called housekeeping immediately, but it took them over an hour to bring us some towels.
I decided that I would leave our electronics in the laptop safe (which I specifically requested when I made the hotel booking). OOPS! There was a laptop safe, but it could not lock!
We phoned reception, and they sent someone from maintenance to come and fix the laptop safe. He tried but had no luck in fixing it. He informed us they would have to let the manufacturer come and fix it. The safe looked so old that I was wondering if the manufacturer even existed still.
The manager came up to our room and offered to move us to a different room with a working safe.
Our second room at the Royal Bintang Hotel
We then moved to another room. This room had a safe, but it was tiny, and not even our iPads could fit. The room also smelled like smoke, and we had requested a non-smoking room. The basin in the bathroom was blocked, and the water did not flow out at all.
We were getting frustrated at this point.
We decided to just go down to reception to complain and ask if we could get another room. As we were waiting for some assistance from the staff, another lady was quite upset and complained that the shower head in her hotel room had fallen on her head while she was showering. She also had an extensive list of other complaints.
Our third room at the Royal Bintang Hotel
Then they moved us to a third room. It still smelled like smoke even though the manager assured us it was not a smoking room. At least the safe was big enough for our laptops, and it worked! This room did not have a lovely view – we could just see construction sites all around, but at least we had a working bathroom and laptop safe.
Breakfast was not included in the room's price when I booked. We considered having breakfast in the hotel, but after seeing the price, we ate elsewhere!
We stayed at this hotel for three nights, but in all honesty, I would never stay there again unless their service improves significantly. Having to deal with so many issues while on holiday is quite stressful and reduces one's enjoyment!
The location of the Royal Bintang Hotel
The only good thing about the hotel was its location. It was in the middle of everything – right in the Bukit Bintang area – the night market, lots of restaurants, shopping centres, etc. There was construction on the roads and surrounding areas which made the traffic awful. Taxi drivers even charged more because of this, so we used public transport. Lucky Kuala Lumpur has purple buses which are free!