Misty Hills Country Hotel: a break from city life
This post contains affiliate links. If you click on any of these links to make a purchase, I may earn a small commission at no extra cost to you.
One year, just before the Easter Weekend, we realized that we needed a break. We considered various spots near Johannesburg since we didn't want to drive for a break of only four days, we looked for places near Johannesburg. After browsing various booking sites, we found an exceptional deal on Expedia to visit Misty Hills Country Hotel in Muldersdrift.
Directions to Misty Hills

The best way to get to Misty Hills is to drive there by car. Misty Hills is located about an hour from Johannesburg's Central Business District. It is situated in Muldersdrift, which is a picturesque rural area just outside Johannesburg.
Arriving at Misty Hills
Since Misty Hills is located in a rural area, it was quiet when we arrived. There is a security guard at the entrance access to the property is controlled.
We loved the beautiful arty statues located on the Misty Hills gate when we arrived. Later we discovered more beautiful art pieces in the gardens and reception area.
Checking in at Misty Hills
The staff immediately assisted us when we arrived at the reception desk. Somehow our booking had been messed up slightly. My daughter and her friend were with us, and since the units at Misty Hills only allow two people per room, we had booked two rooms next to each other linked with a joining door. The receptionist told us that we could not get two units next to each other since there was a wedding the next day and all joined rooms had already been allocated to the wedding guests who would be arriving later.
I was not satisfied with this explanation. I had made a specific request for joined rooms when I booked the units on Expedia, and no one had phoned me to tell me that it would not be possible. The girls were only 11 & 12 years old; I did not feel safe letting them have their unit far from us. I needed to be able to check in on them during the night. After a bit of persuasion, the receptionist managed to find us joined rooms.
Parking at Misty Hills
Misty Hills has many different rooms to stay in, and each room has parking in a specified parking area. We were a bit disappointed that we had to park near the gate to the property while our unit was near the top of the property. Lucky we had first taken our luggage to our rooms before parking the car.
A valet assisted us with our luggage. For first-time visitors, the layout at Misty Hills can be a bit confusing, so having the valet show us the way helped greatly.

Our units at Misty Hill
Misty Hills Country Hotel offers a range of rooms to suit different budgets. The rooms range from Deluxe rooms to Presidential Suites.
We stayed in the deluxe rooms and found them comfortable. The units provided everything we needed.
Apart from the beds being different, our unit and the girls' unit were similar. We had a double bed; they had two single beds. The rooms had stone floors, and it felt like it could get chilly at night.
The bathrooms featured both a bath and a shower. There were also good quality toiletries and towels.
Each room had a desk and a cupboard with extra blankets. There was also an umbrella, and insect spray in the unit. The room had a television with some satellite channels. Our unit had a small bar fridge, but the girls' unit did not have one. Both rooms had a kettle with coffee, tea, and rusks.
The units at Misty Hills are arranged in blocks of 2/3 units next to each other; we never had any noise issues with our neighbours.
Things to do in Misty Hills
Misty Hills offers many things to do – something for everyone!
The pool area at Misty Hills
There are three pools in the pool area.
There was a gym located next to the pool area. The gym was not big but contained the most general gym equipment most people would need.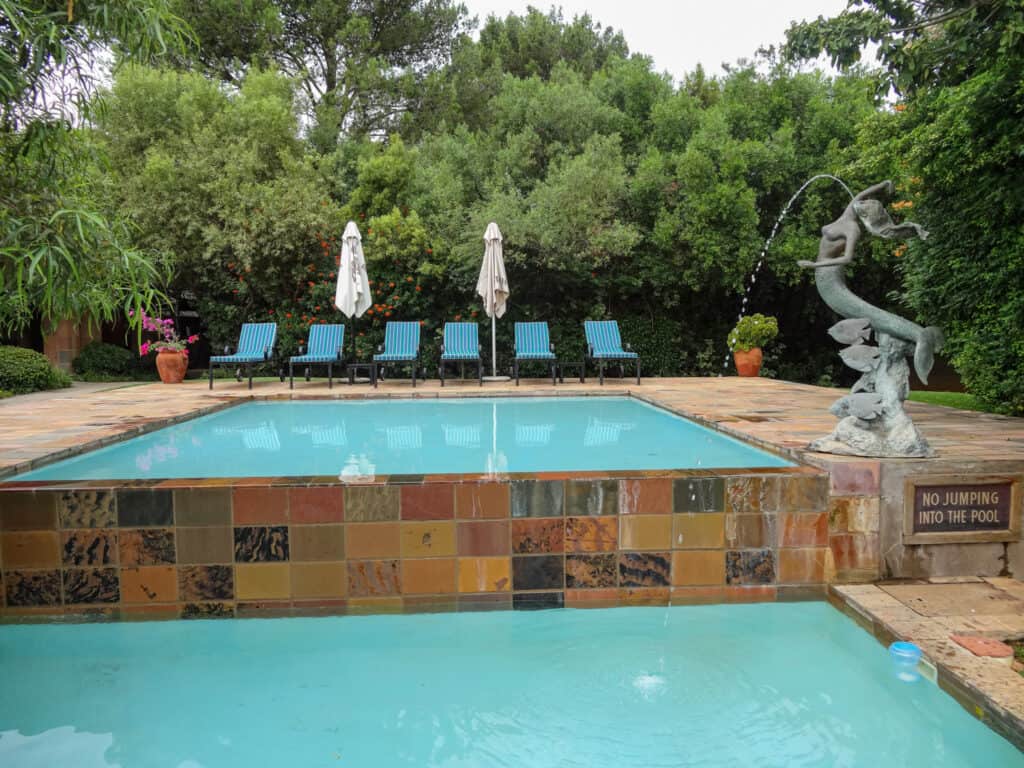 There was a table tennis table near the bar at the swimming pool. Our favorite thing was the hanging beds. These swinging beds were so comfortable, and we spent many hours there throughout the weekend while the kids played in the pool.
Peregrine Castle
We discovered Peregrine Castle. It is a castle with activities for the kids to do, including slides and many hiding spots.
Chessboard
There was a giant chess board located in the gardens at Misty Hills. The chess pieces were traditional African designs.
Helen's Orchid Pavillion
Finding Helen's Orchid Pavillion was a pleasant surprise. It was quite small but featured a few pretty orchids.
Misty Hills Muldersdrift Spa
We did not go to the spa at Misty Hills, but the range of treatments offered would have pleased anyone. The prices seemed reasonable.
Walking around to explore the art at Misty Hills
Everywhere on the property, there are statues or pieces of art. Finding the different figures was fun!
There was art in the gardens, and there were some more valuable pieces in the foyer and reception area of the hotel. We were quite surprised to find a Japanese Samurai Suite in the display areas in the lobby!
Free drinks and candy!
In one of the sitting areas next to the foyer, there was free cognac on offer. It was my first time having cognac, and I enjoyed it. There were several bowls of candy and chocolate in the foyer – the girls enjoyed this treat tremendously!
The various sitting areas in the reception building were very comfortable, and we spent many hours just relaxing there.
Shopping for souvenirs
Misty Hills has a small curio shop. Unfortunately, it never opened while we were there.
Food options
Food was the one item we did not have to worry about while we stayed at Misty Hills. There are several restaurants on the property.
Breakfast at Summerhouse Restaurant
Breakfast was included as part of our booking and was served in the Summerhouse Restaurant. The breakfast was a buffet which included a lovely variety of options. There were cereals, juices, egg dishes, many different meaty options and baked goods. The kids were a bit overwhelmed with all the choices, but after a day or two everyone had their favorite dishes.
Gin Box Pub and Coffee Shop
We never ate at the Gin Box Pub, but we did order room service from them several times. Although the selection of dishes was slightly limited, the prices and the portions were reasonable. The girls loved their nuggets and chips and ordered that more than once.
Carnivore Restaurant Misty Hills
The Carnivore Restaurant is a well-known restaurant at Misty Hills. People often drive through to Misty Hills just for the food at the Carnivore. The Carnivore Restaurant offers exotic meats such as crocodiles and kudu. Eating at the Carnivore is an experience every meat-lover should have at least once.

The Boma at Misty Hills
The Boma was not open when we were at Misty Hills, but I did experience another time when we had a business supper there a few months later. It offers buffets or formal functions around a central fireplace. The food was excellent and a fire always creates a fantastic ambience!
Misty Hills Wedding Venue
The day after we arrived, a wedding took place at Misty Hills. The wedding reception was held in the Boma as it was a relatively large wedding.
Misty Hills is also a popular venue for team building activities. It offers many different conference venues and services.
Reducing costs while staying at Misty Hills
Misty Hills is not cheap to visit. Since the units don't offer kitchen facilities such as a microwave and stove, it means most meals must be eaten in the restaurants or ordered in, which quickly adds up.
Since breakfast was included in the room rate, we enjoyed a hearty meal every morning. We also did eat supper in the Summerhouse once and tried the Carnivore.
For the remainder of our meals, we went to the small shopping area near Misty Hills and stocked up on ready-made sandwiches and cooldrinks, which we kept in the small bar fridge in our room. This saved us a significant amount of money.
Our overall view of Misty Hills
Our main reason for visiting Misty Hills was to get away from the city's hustle and bustle to relax. There are many things to do at Misty Hills, but we did manage to rest as well. Misty Hills is located outside the city, but at night the cars driving on the highway behind the property detract from the quiet at Misty Hills, but we eventually learned to zone this out.
We enjoyed our stay at Misty Hills, the customer service was excellent, and the art scattered throughout the property was a lovely bonus! There were enough activities to keep the girls busy, and we all went home much more relaxed!
If you are interested in staying at Misty Hills, click here to make a booking!
Does Misty Hills seem like a place you would want to visit? Do you enjoy weekend getaways?