This post contains affiliate links. If you click on any of these links to make a purchase, I may earn a small commission at no extra cost to you.
If you are worried about doing DIY itinerary planning after considering the factors that could influence your itinerary planning, there is some good news! There are several apps and resources to help you with your itinerary planning. These itinerary planning apps include Trip Hobo, Sygic travel maps, Wanderlog, PlanApple, Toorister, TripAdvisor, Trip Scout, Culture Trip, TripIt, CityMaps2Go and Visit a City offline maps. Let's look at how they make itinerary planning easier. 
1. Itinerary planning resource: Trip Hobo
Trip Hobo allows you to create a customised travel itinerary quickly. It is best to sign-up to the site before you start because once you have selected your destination, the site will prompt you to sign in. You choose your destination and add your travel dates. If you don't know your travel dates, you can also click to indicate that your travel dates are unknown. 
The site asks if you want an itinerary with suggestions for transportation, accommodation or things to do. Select all that applies to your situation. Then you add your arrival and departure times (if known). The next question is whether you are travelling alone, as a couple or as a family or with friends. The site then generates an itinerary for you and summarises your itinerary for each day in your chosen destination. Each place has a suggested duration, and if you click on a place, you will see an overview of the site. If you selected transportation and accommodation as well, the site adds suggestions to your itinerary. They do not make suggestions for lunch and dinner, but they include a time slot for both in the suggested itinerary.
What is lovely about Trip Hobo is that they allow you to edit your itinerary. By clicking on the editable view, you see a calendar view of your itinerary, and you can then change your transportation and accommodation suggestions. You can change any of the details – the duration of an activity, the activity itself, and you can search for nearby attractions from the site itself. It is pretty flexible to use, and you can end up with a fully customised DIY itinerary plan using their suggestions as a starting point. Once you have finished planning your itinerary, you can select to talk to a travel agent about your itinerary if you do not want to make your bookings yourself.
You can share your created itinerary with friends and family through Facebook, Twitter or email.
The site also helps with budgeting for your created itinerary. Suggested accommodation and transportation options will include a required budget amount. You can add your budget to each item on your itinerary, and the site will total your expenses.
You can use the site for researching things to do, hotels or tours in a specific destination. The site currently covers North America, Europe, Oceania, Africa and South America. In addition, you can see other people's itineraries for different destinations. You can also use these itineraries to create your own.
The site also allows for multi-city trips since you can include transportation between cities as well.
You can make all your hotel and tour bookings directly from Trip Hobo – it is close to a one-stop-shop!
Trip Hobo is only available on the web and has no apps currently.
1. Itinerary planning resource and app: Sygic travel maps
Sygic travel maps used to be called Tripomatic. I love using this app for itinerary planning, and it was the app I used to plan my first solo overseas trip to Switzerland.
Sygic travel planner is a visual itinerary planning app as it shows you a map of your chosen destination with bubbles of activities and sights to see. The bigger the bubble, the more activities are in the location. You can click on a bubble to see more details about the activities available at the spot. It shows you some information on the place, including the opening hours, address, and users' reviews, if available. You can then favourite a site or add it to your trip.
If you select to add it to your trip, you can choose the date you want to add it to. As you add a place, it will show you how long it will take to get between sites and the mode of transportation. You can then add a duration for how long you want to spend at each place to create a full itinerary. It provides an estimated duration for your daily itinerary, but you can change how long you spend at the different sights and attractions.
The site includes links to hotels and tours, but you don't book on the site directly. Instead, when you click on a link, it will take you to the booking site.
You can save your travel itinerary under a "My Trips" folder where you can later change your trip dates, and the site will automatically adjust your dates and activities (Make sure about the opening hours of places on your chosen travel dates). You can invite participants to your itinerary, print your itinerary, or even share it through Facebook, Facebook Messenger, Twitter, or email.
Sygic Travel Maps have apps for android and apple devices. The site and apps are free to use.
3. Itinerary planning resource and app: Wanderlog
You can use Wanderlog on the web or through their app for android or apple devices. You choose a city and add your travel dates. Wanderlog then creates an empty itinerary for you to add items to. You can also import bookings by emailing them to Wanderlog or connecting your Wanderlog account to your Gmail account.
You can now add places to visit to the different days in your itinerary. You can search in the search bar provided under places to visit. When you click on an item, it gives an overview of the place, including the average rating and website. You can also click on TripAdvisor to see reviews. In addition, you can also google it or see where it is on Google Maps. You can now add places to your itinerary.
The site lists all the items you chose below each other. You can delete a place or drag and drop them to get the sequence you want. The site shows your itinerary on the left and the map of your planned activities on the right. Each day's activities have a different colour to help you differentiate between the days. You can also add notes to your daily plan, as well as restaurants you would like to visit.
A nice feature of Wanderlog is that you can click on optimise route to allow the site to show you the fastest way between the activities you have planned if you have between 3 and 12 activities for the day. It will ask you to select a starting point and an endpoint and then suggest the most efficient sequence. The site also shows you the best transportation for getting from one place to the next.
I also really like how customisable Wanderlog is. You can change the descriptions of everything, such as the places to visit, the colours used to show items on the maps, and add subheadings to days if you have themes for the day. Another pleasant feature is that you can tick off places after visiting them! You can choose whether you want to make your itinerary public, available to friends or private.
Unlike Trip Hobo, you can view travel guides created by others; you cannot click to add places mentioned to your itinerary. However, these guides are still helpful for inspiration and ideas.
I have not yet used the site to plan a trip, but I would love to try it for a future trip.
4. Itinerary planning app: Planapple
With Planapple, you choose a destination, add your travel dates, and the site creates a trip template for you to fill out.
You will start at the Idea Finder, from where you can search directly from the site for sights to see, hotels to stay at, or tours to book. You can save search results in your Planapple notebook. The site will automatically add them to the different folders based on its classification as an attraction, transportation, dining or lodging. You can then add these saved ideas to your itinerary. Planapple is a relatively simple itinerary building site. It just lists places you have added to your itinerary – it does not further analyse travel time or durations for your itinerary.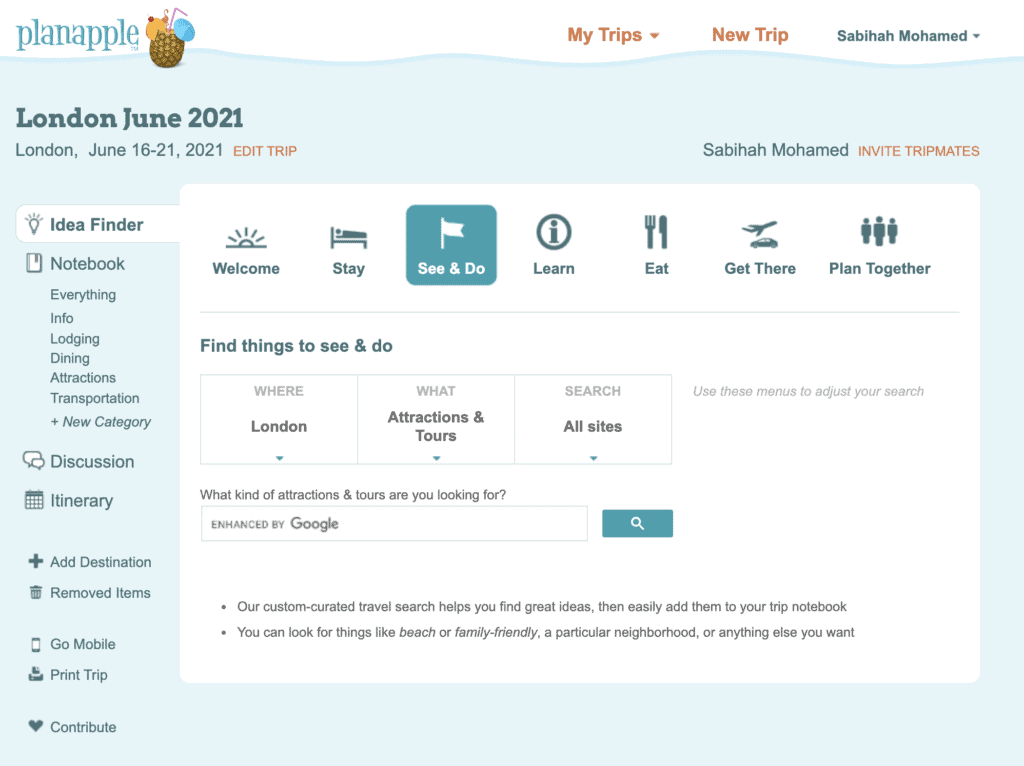 Planapple lets you share your itinerary with friends and family by inviting them to your itinerary through email. There is a facility for you to discuss the itinerary with your friends and family. You can also print your itinerary. Planapple can sync with TripIt to automatically save bookings to your itinerary. There is no Planapple app, but they allow you to create a shortcut to the website on mobile devices.
5. Itinerary planning app: Toorister
Toorister provides examples of itineraries for primarily European countries. The owner is planning on expanding the range of countries with sample itineraries in the future. Currently, you can access itineraries to Austria, Belgium, Czech Republic, France, Germany, Greece, Hungary, Italy and Monaco. However, the focus is on city trips only, so if you want to explore the countryside in these countries, you may have to consider using other websites for ideas.
You can use the provided itineraries as inspiration or as the starting point for your itinerary planning. The itineraries include a day-by-day plan for the most popular attractions, together with estimates of how long you need to visit these attractions. Having these itineraries is so valuable, but you need to make sure the attractions you want to see are open on your desired day and consider the seasonal impact also – some attractions have shorter opening hours in winter. Purchasing tickets for attractions online will save you a significant amount of time and help you stick to your planned itinerary.
The site is relatively simple and easy to use. You choose your travel destination from the list provided and click on search. The search results will show you the itineraries available for your chosen destination, based on different durations. Each day's itinerary shows the places to visit and how much time you need to spend there.
6. Itinerary planning app: Trip Scout – my travel planner
Trip Scout allows you to build your travel bucket list. It is similar to TripAdvisor and Culture Trip. You can add a destination and dates for your trip. Then you add sights and attractions to your list. 
7. Itinerary planning app: TripAdvisor
TripAdvisor allows you to save items to a list you have created. You can add travel dates to your list. What is nice about the mobile app is that you can choose to see sights and activities near you if you are looking for places to explore near your location. Once you have created a list, you can see all the places you have saved on a map. It is essentially a list-making app and not a full itinerary app such as Trip Hobo, Wanderlog or Sygic travel maps.
8. Itinerary planning app: Culture Trip: Travel & Explore
This Culture Trip app reminds me of the TripAdvisor app. It lets you browse guides created by others, and you can explore the map with sights and attractions. You can then save items to a list you made. It also allows you to see sights and activities near you to explore when you are in a specific location. Although a useful tool, it is not as dynamic as some other apps we have considered on this list.
9. Itinerary planning app: TripIt: Travel Planner
TripIt is an app that every traveller should use. You can send all your booking confirmations to TripIt, and it will create an itinerary for you based on the date and time of the bookings. Although not an itinerary planning app, it is helpful to keep your bookings organised.
10. Itinerary planning app: CityMaps2Go – Offline Map
CityMaps2Go is available as a free or premium app. This app gives you access to a map of your chosen destination. You can then save items places you want to visit. There are guides of places to see by well-known bloggers, such as Nomadic Matt, that you can use for inspiration. In addition, you can book tickets to sights and tours from the app. 
11. Itinerary planning app: Visit A City Offline Guides
Visit a city offline guides are not available on the web, but only as an app. You can sign up for free and browse itineraries created by others and change these to suit your specific travel dates. You can also book tours and tickets from the app. I found the app to be commercially focused on getting you to make bookings from the app. I would instead use other sites, such as Trip Hobo, Sycig Travel Maps and Wanderlog.