This post contains affiliate links. If you click on any of these links to make a purchase, I may earn a small commission at no extra cost to you.
Safety while traveling internationally is important. Protecting your personal information is essential. I never used to use a VPN for international travel, but in 2014 my credit card got hacked when I used it to pay for a hotel which I booked over a hotel's WiFi connection. It was a scary experience knowing that someone could use my credit card for transactions without my knowledge. As soon as I got back from that trip, I signed up for a VPN and I now use it daily, even when not traveling.
This article focuses on why you should use a Virtual Private Network or VPN to protect you and your information while traveling internationally. It will explore what a VPN is, the reasons why you should use a VPN while traveling internationally, and how to use a VPN. I also make a recommendation for a VPN for international travel.
What is a VPN?
A VPN is an application that allows you to choose a server from which to connect to the internet. This means that you can connect to a public WiFi network from a different server in the country where you are located in or you can choose a server in a different country.
Reasons to use a VPN for international travel
There are several reasons why a VPN should be used for international travel. Let's explore them here:
1. Protecting your personal information
Most of us look for free public WiFi when we travel internationally in an effort to save money while traveling. This is risky, especially when you want to do online transactions or access sites requiring you to log on using your username and password. If you don't use a VPN your login information, credit card, or banking details can easily be targeted by hackers as public internet networks are not secure.
If you connect to a VPN it will encrypt your data and make it more difficult for hackers to access your data. This is the most important reason to use a VPN and this alone makes getting a VPN worthwhile.
2.  Accessing blocked sites
In some countries, access to specific internet sites are blocked for residents of the country. If you use a VPN you can change your server to a location outside of that country and still access these blocked sites. A friend of mine visited China in 2019 and could not access Gmail or google without using a VPN to change her server location.

3.  Getting access to country-specific content
A VPN helps you access content that would only be available in a specific country. One example of this is accessing US or UK shows on Netflix. Not all VPNs work on Netflix, but if you find one that does you can access shows from different countries.
Google search results depend on your location as well. If you are traveling internationally but want to google for something in your own country, a VPN can help you influence the search results you will get.
4.  Getting better flight, accommodation, and other travel deals
Your location can influence the prices you are given for flights, accommodation, and other travel deals when you search on travel sites. Before you make your final bookings, try different locations globally, and see how the prices differ between countries.
Choosing a VPN provider
When you start researching VPN providers, you will be overwhelmed with the number of service providers available. For non-technical people like me, the following criteria should be considered when choosing a VPN:
Price
Security
Number of countries and cities with alternative servers
Ease of use
Availability on different platforms (mobile and desktop apps/sites)
Number of devices you can use it on at the same time
Availability for android and apple devices
30-day Money-back guarantee or free trial
Impact on the speed of your internet connection
Some of these criteria you will only be able to assess after starting to use the VPN, such as the impact it has on your internet connection, which is why a free trial or 30-day money-back guarantee is so important. Connecting to a VPN slows down your internet connection speed. The server location impacts this, so if a server in one city is slow, try another city in the same country to see if the connection is faster.
My first VPN was VyprVPN. I used it for two years but found it slowed my connection significantly and I often could not connect to my selected server location.
Based on the above criteria, my preferred choice for a WPN has been NordVPN for the past four years. They have servers in 59 countries, many countries have servers in multiple cities. NordVPN's price is really good, especially when you purchase for 203 years. I use the app on all my devices at the same time (they allow 6 devices) and have not had any connection issues. It works well on Netflix when I want to watch shows from different countries.
How to use a VPN for international travel
You may wonder how to use a VPN. It is a simple process.
You log into your app or VPN website.
From here you can let the VPN app connect to the fastest server available. This is usually a server in your country or you can choose a server in another country to connect to.
Choose the country you want to connect to. The app will show you the different server locations in the selected country to choose from. You click on the one you want and you are connected! It is so easy – anyone can do it!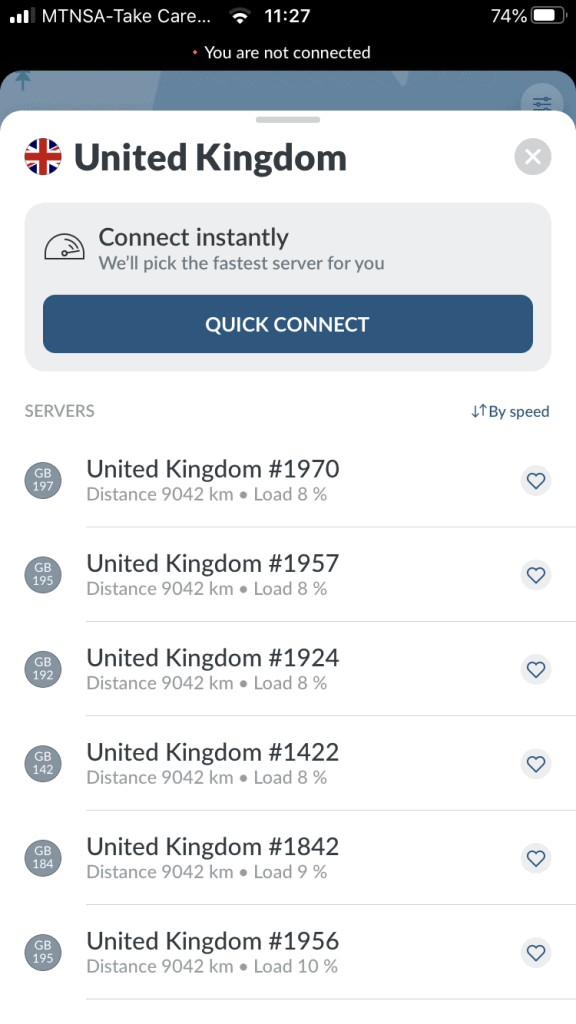 If one considers the benefits of using a VPN for international travel, but also that it can protect your data in your own country as well, getting a VPN is a logical decision. Protect yourself and your online transactions and get a VPN service as soon as possible!
Has your credit card or personal data ever been hacked while travelling internationally? How did you deal with it? Do you use a VPN now to protect your data?